Welcome to Empire Distribution Inc.
Empire Distributions Inc is one of the leading Manufacturer and a most trusted name in Wholesale and Distribution. Since its establishment in 2010, it has a focus on providing excellent products and services to its customers ensuring best quality at competitive prices.
We have state-of-the-art coolers and freezers to keep refrigerated and frozen products under controlled temperatures before delivery to different customer locations. Our huge product warehouse is located in Mississauga, ON. Our fleets of temperature-controlled vehicles are busy all day long delivering products to our customers across the area to serve them better and in-time. Our products are delivered across restaurants, banquet halls, hotels, caterers, ethnic grocery stores and Canadian mainstream grocery stores such as Wal-Mart, Freshco, Sobeys and No-frills etc.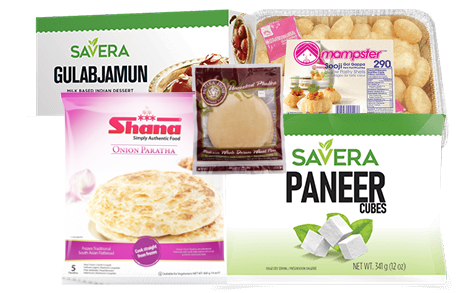 For last many years, we have emerged as a reputed choice of food industries and are the main distributors of leading food brands all across Canada.

From paneer balls to desserts, we distribute properly packed food items.

We distribute foods that are perishable and need to be consumed soon.

We distribute and supply uncooked rotis to restaurants and grocery stores.

Right from curd to cheese and milk made desserts, we supply them all.
Empowering Food Industry With Fast & Fresh Distribution
Empowering Food Industry With Fast & Fresh Distribution
Empire Distributions Inc. is a dependable food supplier and distributor for restaurants, wholesale shops and grocery stores. We are sure you won't find any source more affordable or convenient than us. No matter, what perishable or consumable food items you produce, we ship them with priority and without any delay.
We pride ourselves on establishing lasting relationships with restaurant owners, culinary institutes, and grocery store owners across the GTA. Some reasons to choose us:
Flexible & Fast Delivery
Committed To Satisfaction
Dedicated Pickups & Delivery
Trusted & Dependable Team
Affordable Service Pricing
All Over The GTA Coverage
Order Your Choice Of Food Products From Trusted Brands!